Colour-changing paper strips to detect rising carbon dioxide in buildings, beautiful insects made from upcycled e-waste and a flexible, stretchable lithium-ion battery. Catch up on the monthly news from the field of printed electronics in our June digest below.
A paper sensor for carbon dioxide
Researchers from the University of Alberta, Canada, have created a sensor to detect changing carbon dioxide levels with a piece of paper. The device integrates a fluorescent colour-shift chromophore in a sheet of standard filter paper: exposure to CO2 leads to the formation of carbonic acid, and the sensor changes colour in under a minute. "In smart buildings, carbon dioxide sensors can tell you about the occupancy and where people tend to congregate and spend their time, by detecting the carbon dioxide exhaled when we breathe," author Al Meldrum told Phys.org. "This can help to aid in building usage and design."
The metamorphosis of electronic waste
In 2018, an estimated 50 million tonnes of e-waste were reported, owing to the increased consumption and replacement of electronic devices worldwide. Besides the loss of valuable resources and components, electronic waste poses an environmental problem, as scrap circuits and other device elements often contain potentially harmful or contaminating materials, such as lead, cadmium or brominated flame retardants. British artist Julie Alice Chapp upcycles discarded electronic circuit components to create, in her words, "miniature worlds and subversive taxonomies exploring themes around the exploitation of nature". You can browse her creations on Etsy (not sponsored, we just like them!).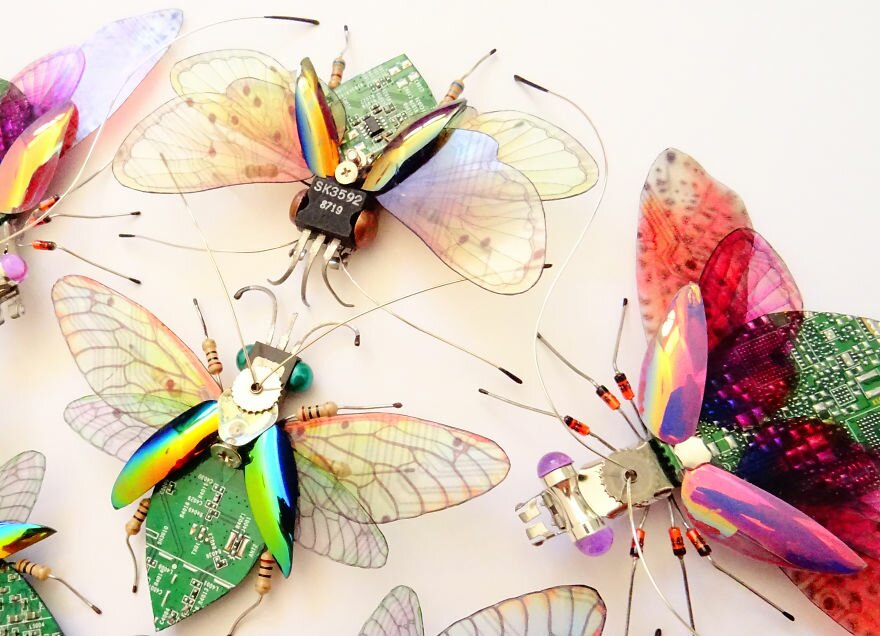 © Julie Alice Chapp
Honeycomb structure makes battery stretchable
Researchers from the Photo-Electronic Hybrids Research Center at the Korea Institute of Science and Technology (KIST) have created a lithium-ion battery that is flexible and stretches like an accordion. The battery has a graphene-based electrode, shaped in a microscale honeycomb pattern, and a stretchable gel electrolyte. A key innovation in this device is that it doesn't use any of the usual stretchable materials that don't facilitate energy storage, such as rubber. Every component plays a role in energy storage and charge transport. According to Printed Electronics Now, "the stretchable battery created by the team showed an energy storage capacity (5.05 mAh/cm2) that is as high as existing non-stretchable batteries".
Kick-start your printed electronics project
At INNPAPER we have extended the deadline for our Open Call — now accepting innovative ideas until the 31st August 2020, from across Europe. We are looking for your original proposal of a real-world application for our technology. The winner will get to kick-start the idea with the following: a technical viability assessment, a manufacturing process flow, a roadmap to TRL 7 and an estimation of the cost of the technology. The winner will also gain privileged access to INNPAPER's pilot printing line, which includes, among other technologies: cutting edge roll to roll pilot coating technology, surface characterisation including AFM and SEM, inks formulation and sheet to sheet printing techniques. We look forward to reading your proposal!